Catch up with "The Hard Drive" on iono.fm
The Hard Drive
12:00 - 15:00, Monday to Friday
Brought to you by Karlien Kruger
The Hard Drive brings you all the biggest current news and lifestyle events happening in the world. But don't expect more chaos or clutter – lunch times are hectic enough. It's all bite sized and easy to digest, just the way you like it.
What can you look forward to on the Hard Drive daily?
3 Things You Need To Know Today sponsored by Wecke & Voigts
This is all you need to be able to be in sync with the most important Namibian and global news of the day, every Monday, Wednesday and Friday.
Rewind The Hard Drive:
We delve a bit deeper into an event or person that made headlines on this day in history, and connect the dots to a popular song.
The SpecSaver Sports Update:
A daily bulletin for school or national sport news.
Details

Category: The Hard Drive
Published on Thursday, 11 August 2016 12:48
Namibian cyclist, Dan Craven, ended his Olympic participation earlier this week when he competed in the men's race. He was among the many cyclists who did not manage to finish the gruelling route, but he did make headlines with his Twitter account. His girlfriend, and marketing strategist, posted a series of amusing tweets on his behalf during the race.
When the dust settled and the rusks were all eaten (see here for reference), everyone thought that was it for Dan From Nam.
But then, on Tuesday, Craven got a call. A few injured riders were unable to participate in Wednesday's time trial, and Namibia can take a slot. Because Dan was only scheduled to take part in the road race, he didn't bring his time trial bike (or anything 'aero' for that matter) with him to Rio. he compared it to going to a F1 race with a NASCAR. He turned the opportunity down.
But then he had a change of heart.
Again, he took to Twitter, this time asking his followers to vote on whether he should take the slot or not. It was a unanimous YES! Shortly after, Dan posted this picture of the official start times for the TT: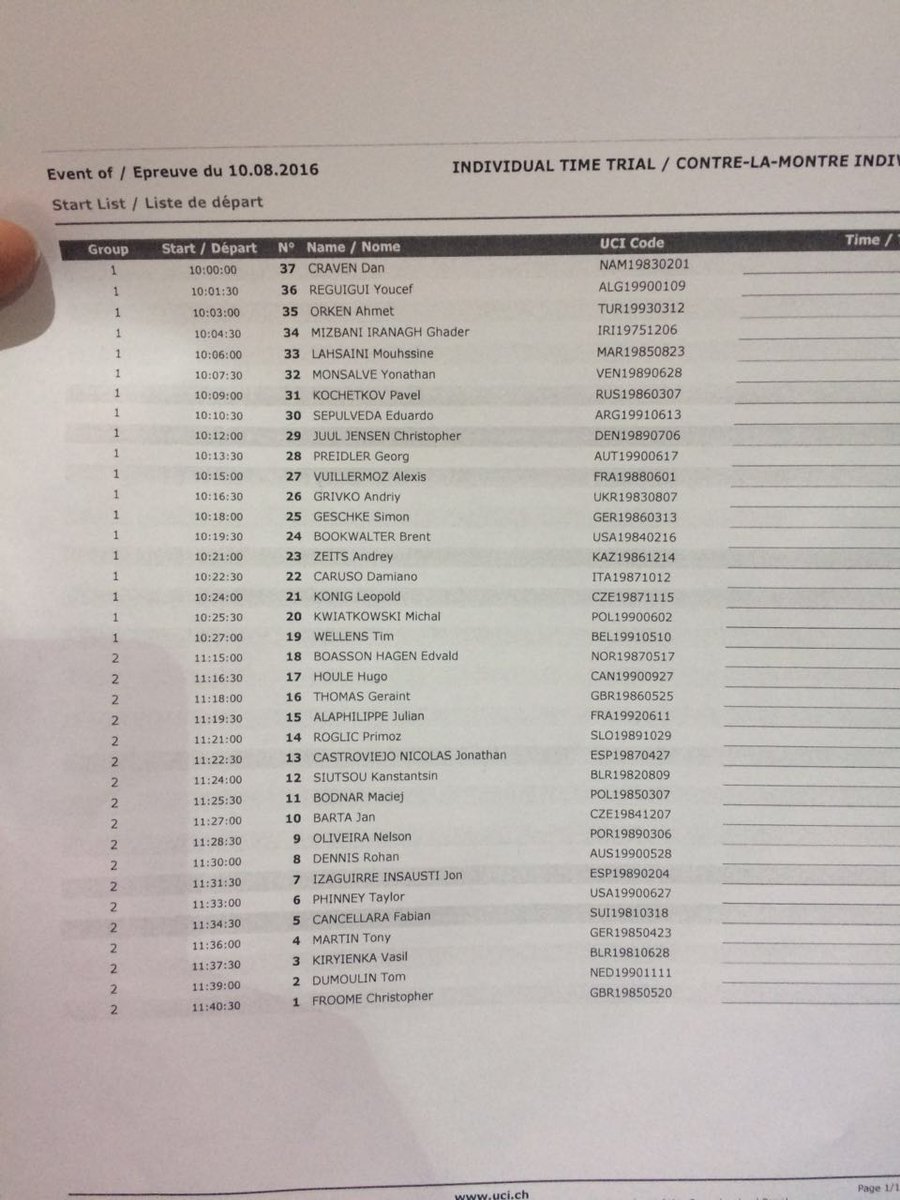 What sparked his change of mind? He told journalists: "How many people get an unexpected invitation to compete in an event in the Olympic Games? That just doesn't happen. I hung up the phone, but then I thought, I just turned down competing at the Olympic Games because I was scared of my ego, my fragile ego. I thought, that's just ridiculous. As much as the Olympics isn't what it used to be, it's still the Olympics. I'm still representing my country in front of the entire world. I mean, what's cooler than that?"
Before the TT he told Velo News: "When I was a kid growing up in Namibia, watching Namibians in the Olympics was like, 'Wow, we can be there,'" he said. "Okay, yeah, I'm going to come last, but there are going to be some Namibians at home that go, 'But we can be there; it's possible. "If someone thinks I'm going to be embarrassed here, today, they have no idea what I've been through, they should have seen me when I had chronic fatigue syndrome and couldn't even move up from last position in the Lincoln GP in 2013. You should know what salary I've ridden for in the past. This isn't embarrassing, that was embarrassing."
Dan finished the TT in last position, 35th, but he completed it. And it was no doubt one of the proudest moments of Namibia's 2016 Olympic participation.